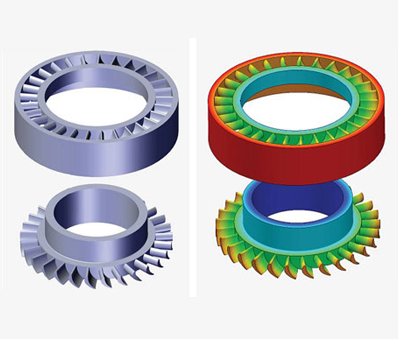 3D Design & Simulation
Through SolidWorks we offer a comprehensive 3D design solution that consists of powerful simulation and design validation, as well as ECAD /MCAD collaboration, reverse engineering, and advanced wire and pipe routing functionality.
With SolidWorks Simulation we can provide a full range of simulation capabilities to ensure product robustness. It goes beyond core simulation and expands the virtual test environment to product durability and natural frequencies, heat transfer and buckling, and pressure analysis and complex loading. It also includes tools for simulating nonlinear and dynamic response and dynamic loading.

PV Elite & Fluent
PV Elite is a complete solution for vessel and heat exchanger design.
DATA COLLECTION
PV Elite makes defining pressure boundary conditions for vessels and exchangers easy, even for load sets that require significant data input.
ANALYSIS OPTIONS
PV Elite performs calculations in accordance with ASME Section VIII Divisions 1 & 2, PD 5500 and EN 13445. Rules from API579 (Fitness for Service) are also included for evaluating the current state and remaining life of existing vessels.
OUTPUTS AND REPORTS
To simplify inspection requirements, PV Elite lists the most important equations such as required thickness and maximum allowable working pressure (MAWP) and also groups results by type (e.g. internal pressure, external pressure, bending stress, nozzles and flanges). Overall results are summarized where the element or detail controlling the overall vessel MAWP is identified.
MATERIALS AND CODES
PV Elite is a global package with international code rules plus extensive region-specific content.